Space Case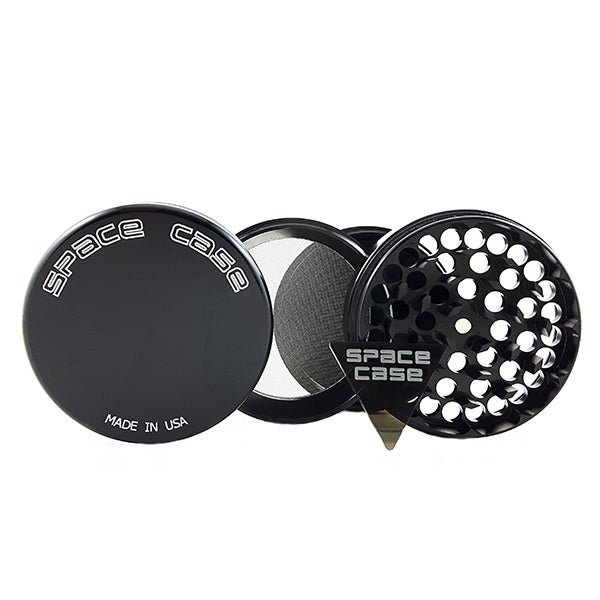 Here at Budmail, we're happy to carry the best of the best, which is why we're excited to carry Space Case grinders! Order today, ships tomorrow!
From the owner
Established in 1998, Space Case is the original high-end aluminum grinder proudly made in the USA. While we have many firsts that we introduced to the market such as magnets, what we pride ourselves on is simple, to consistently produce high quality products made in the USA.
I have over 35-years' experience as a machinist with an aerospace background and have manufactured detailed parts used in items ranging from surgical equipment to the Space Shuttle. Precision and quality is a part of our DNA and we put that knowledge to use in your Space Case products.
For over 20 years, we have designed, prototyped, manufactured and shipped every single Space Case product from San Clemente, CA. Our aluminum is not your everyday aluminum. We have partnered with an American brand and exclusively use their special series of aluminum milled in America which we helped develop.
Our promise to you is simple, we stand behind our products with a lifetime warranty and we will continue producing the world's finest grinders right here in the USA.
Tim Brady – Owner
Materials
Before a product is produced, we first source the finest American milled aluminum. It is important to know there is no such thing as medical grade aluminum. The quality differences in aluminum primarily are associated with tensile strength and added elements. We exclusively use special edition aluminum from our vendor that is stronger and aids in our incredibly strong and robust cutting diamonds that have been proven in our 20 years of operation.
Design
Diamond Tooth Design
Our diamond tooth design cuts, shreds and grinds your herbs to the desired texture of your choice. Another feature which is important to our customers over the past 20 years is our centering wedges. The centering wedges are the outer points which push herbs back to the center for constant movement as our opposing bi-directional diamond teeth do their job until your texture is achieved.
After your herbs falls through transition holes it is met by a medical grade T-316 Stainless Steel Screen. From here, only pollen from your herb passes through the screen which was pressed into place using a 360⁰ tapered locking press that gives a firm screen tension.
Finally, the pollen that passes through the medical grade stainless steel screen arrives on your collector plate. Your Space Case pollen pick has a matching radius to the collector plate edges to ensure optimal collection of your pollen.
Magnets
A magnet is not just a magnet, we source the finest magnets used by industry leaders and produced under license to the highest of standards. Our Neodymium rare earth magnets are ROHS compliant for responsible environmental protection.
No products were found matching your selection.